Sign up today to receive our four grammar modules for free!
That's right, free.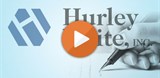 New for 2014, Hurley Write is offering free weekly writing tips.
We'll be updating them every Thursday, so be sure to check them out!
Discover how we can help your staff write technical, scientific, and business documents with more confidence, clarity, and focus
View our 90-second video
Why download our free eBook?
We wrote this eBook to provide your team with new ideas and strategies that may result in a less stressful writing experience and in better written documents.
Includes:
Chapter 1. Critical Thinking Skills in Workplace Writing
Chapter 2: Writing Effective Emails
Chapter 3. Lean Principles and Workplace Writing
And much more!
Free eBook!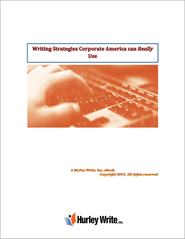 ---
Become a member today and enjoy these exclusive benefits
Access to free writing resources, including videos, podcasts, white pages, writing tips, and newsletters
Advance notice of upcoming webinars and other special events
Discounts on products, including webinars, online courses, and editorial services
Advance notice of new products and opportunities to beta test
Automatic entry into our frequent contests and giveaways
Register Now
---
Increase Business
Poorly written business documents equal lost business. A good writing course will enhance your business by
Standardizing documents so that readers know where to find information
Reducing editing time
Ensuring that every document is precise, concise, and targeted
---
Save Time
A targeted writing course that includes the proper tools to measure success and progress can make you and your staff more efficient, thereby saving you time, money, and resources. Contact us today for a free consultation!
Register Now